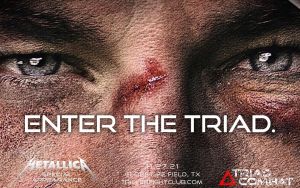 TRIAD COMBAT Debut, MMA vs BOXERS
Followed by METALLICA Full Concert
Saturday, November 27, Globe Life Field
Arlington, TX
That's right Dallas Tx Triller Fight Club proudly presents Metallica live at Globe Life Field for the introduction of Triad Combat. What is Triad Combat you ask? Well picture the top MMA fighters in the world going against the top Boxers in the world in a triangle ring…. Renegade Radio will have all the inside scoop and interviews so stay tuned for more to come.
This Saturday night's revolutionary debut of Triad Combat from Globe Life Field in Arlington, TX, Two-Time Boxing Heavyweight World Champion Shannon 'Let's GO Champ' Briggs will captain the boxing team while the Team Captain for the MMA Team will be former UFC Light Heavyweight World Champion Quinton 'Rampage' Jackson. In addition to the exciting seven bout card for the new sports' debut, International Music Icons Metallica will also play a full concert.
Among Briggs' outstanding victories throughout the course of his career was his world championship defeat of Siarhei Liakhovich in the 2006 'Fight of the Year' and his win over Boxing Legend and Hall of Famer George Foreman in 1997. His legacy as one of the division's hardest punchers was continuously showcased as he was celebrated internationally for his 53 show-stopping knockouts amongst his 60 career victories.
Jackson had an illustrious career with the UFC, defeating Chuck Liddell, Wanderlei Silva and Dan Henderson among many others while becoming one of their most popular superstars. He also won the Bellator Season 10 Light Heavyweight Tournament cementing his legend as one of the most exciting fighters in MMA history. Get your tickets today at www.metallica.com
The fight card is stacked and full of hard hitting and ground pounding amazing fighters:
BOUT 1 – 145 lbs 5 ROUNDS
Steven Graham Raytown, MO 0-0-0, 0 KOs
Harry Gigliotti Haverhill, MA 0-0-0, 0 KOs
BOUT 2 – FEATHERWEIGHTS 5 ROUNDS
Alexa Culp, Lee's Summit, MO 0-0-0, 0 KOs
Angelina Hoffschneider Denver, Colorado 0-0-0, 0 KOs
BOUT 3 – 175 lbs 7 ROUNDS
Albert Tumenov Nalchik, Russia 0-0-0, 0 KOs
Scott Sigmon Bedford, VA 0-0-0, 0 KOs
Bout 4 – 165 lbs – 7 Rounds
Derek Campos Lubbock, TX 0-0-0, 20 KOs
Brian Vera Austin, TX 0-0-0, 0 KOs
Bout 5 – 175 lbs – 7 Rounds
Mike Perry Orlando, Florida 0-0-0, 0 KOs
Sakio Bika Sydney, Australia 0-0-0, 0 Kos
Co-Main – Heavyweights – 7 Rounds
Matt Mitrione Milwaukee, WI 0-0-0, 0 KOs
Alexander Flores Rowland Heights, CA 0-0-0, 0 Kos
Main Event – Heavyweights – 9 Rounds
Frank Mir Las Vegas, NV 0-0-0, 0 Kos, Two-Time UFC Heavyweight Champion
Kubrat Pulev Sofia, Bulgaria 0-0-0, 0 KOs, Two-Time World Heavyweight Title Challenger
1