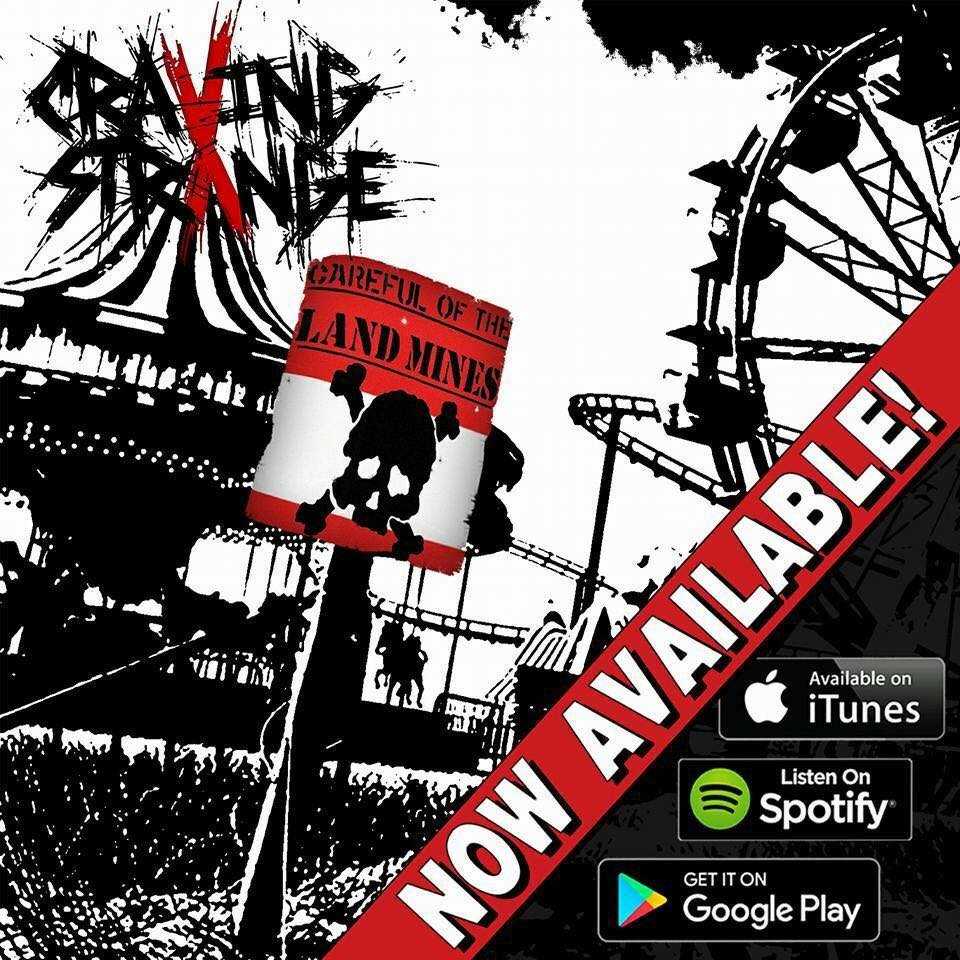 Four years ago, in a bar somewhere out in eastern Long Island, I happened upon a tattooed singer from Indiana, whose band had just finished tearing the place up. We spoke for a few minutes, and then went our separate ways. Less than a year later, They held a record release party on Feb 28th, 2014 at Revolution in Amityville, New York, that we simulcasted here on Renegade Radio, for the world to hear – changing the course of our New York (And East Coast) endeavors forever. The title of that record was "A Life Exceptional" and the Singer's name is Jimmy G, of the band Craving Strange.
3 years later, we're getting ready to do it again – As on March 21st, 2017 they released their latest 6-track EP, "Careful Of The Landmines" and hooooooo boy is this a doozy of a release. I'm about as excited of the "new" Material (Hey, They've been playing these songs for quite some time at their live shows) as I was the first time I caught them.
The title track kicks off the EP – which has also become a fan-favorite staple of any Craving Strange show, follwed by "My Enemies Look Just Like My Friends" – Biting lyrics and catchy hooks all around. One of my favorites, "Like A Wave" – an anthem-like Rocker brings us to the halfway point. The radio-friendly "Go" has what I would consider the "it" factor, and if that doesn't turn some heads, there's always my other favorite standout "Dissolve" – another killer rocker. "Nothing But a Chance" closes out the record.
I could ramble on about the impressive lyrics, The driving guitars, the Grooving Bass or the pounding drums – But here's the the thing – You're just going to have to listen to the EP yourself (Or hear it while you're jamming out right here on Renegade!) and decide what YOUR newest favorite song is. Buy the damn record, and break out some cigars 'cause man, If there's nothing else to say about this record – it's that these guys are destined to go far.

Join us as we celebrate the release on April 7th, 2017 – Where we will be simulcasting LIVE from Revolution in Amityville, NY – Also on the bill will be Our friends in Jacknife Stiletto, Revel 9, Sweet Tooth and The Innoculated Canaries!
Craving Strange is:
Jimmy G. – Lead Vocals/Rhythm Guitar
Frank "Junior" Guertin – Lead Guitar/Backing Vocals
Jimi Tassone – Drums
Chris Monte – Bass
Check them out on
www.facebook.com/cravingstrangemusic
www.twitter.com/cravingstrange
"Careful Of The Landmines" now avaliable. on

0