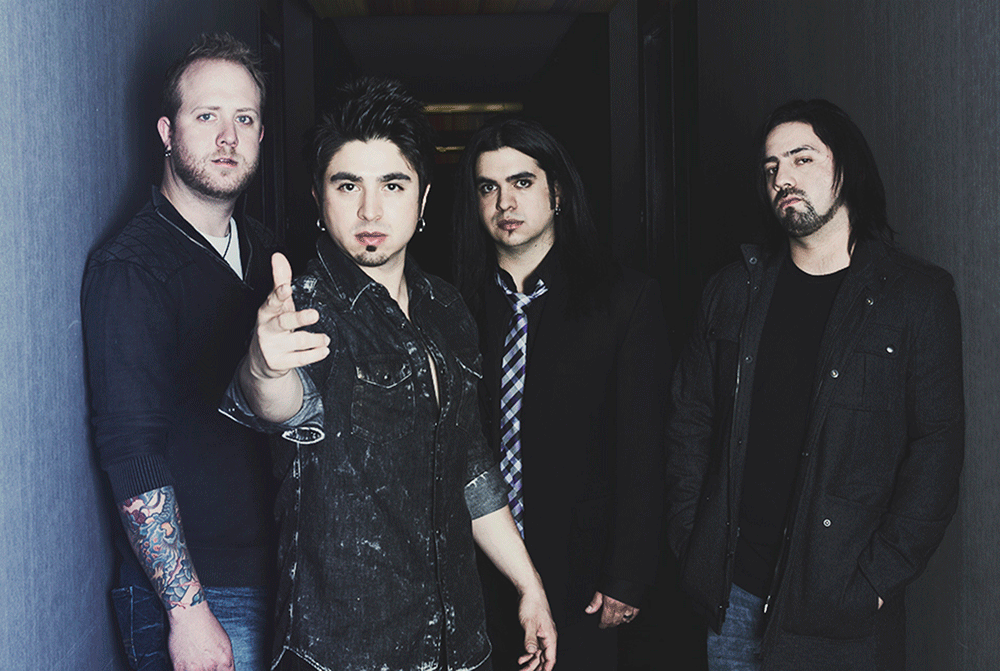 First they called themselves Structure. Then the name changed to Secret Secure. Now they call themselves The Taking. Under the current name and banner, this four-piece band from San Antonio, Texas combines elements of electronic music and rock to form a sound their Secret Secure songs were missing – sonic variety. While songs under the name Secret Secure were good (especially "Lady"), a common criticism I kept hearing from a few listeners is that they all sounded the same. This criticism was soon silenced in a big way.
After some length of time passed and this four-piece band was ready to start writing new music, they decided to completely change their style. Working with Jeff Blue and Mike Gonsolin at Trend Def Studios in LA, the boys released a four track self-titled EP with the new electronic rock sound. Using the new mad skills they learned during their stay in LA, the Taking boys decided to test their electronic skills on some new songs. The result was several self-produced singles soon followed by a self-titled album with ten tracks, both of which gave the listener some wonderful sonic variety and much improved lyrics (especially with "Anywhere" and "Never See Me Again"). In fact, there are so many fun electronic noises woven into this melodic rock base that even I can't get bored listening to these singles over and over and over again. Every time I spin one, I hear a new background sound and wonder what instrument and/or button made it.
While there is not a bad song on The Taking's latest self-titled album, there are songs that grab ones attention faster than others. Interestingly enough, the songs that grab this DJ's attention the quickest are in fact ones The Taking produced themselves. In no particular order, they are "Never See Me Again", "Torn to Pieces", "Get Some", "We Rise" and "Screaming". The only exception to this is "The Bitter End", a single from the self-titled EP produced by Jeff Blue and Mike Gonsolin.
Of the songs the band produced themselves, "Never See Me Again", "Get Some", and "Screaming" immediately grab my attention not only because they sound great but the message behind each of these songs lay directly on the surface of the tune. Countless times I have had to dig deep to find the meaning or message in a song because the artist has it so well hidden that they alone know what it's about. That's all good and well, but if you want people to connect with your music in this instantaneous day and age, the message needs to be right on the surface and expressed in a common tongue! Otherwise, the listener will give up and move on to something else.
For example, the opening track "Never See Me Again' tells the tale of a couple on their last straw with one another, pointing fingers, and talking trash behind each others back. The "he said, she said" game escalates and finally one of them walks out the door, never to be seen by the other again. So many of us (the author included) can relate to a situation eerily similar to what the song describes. If you can't relate to it yet, keep this song in your back pocket as it would be perfect to blare in the opposing person's face when the finger pointing happens to you.
After that nasty finger-pointing session in "Never See Me Again", a second surface message (for lack of a better term) emerges with "Get Some." What better track says "happy-go-lucky one night stand" than this song? (Ok, maybe "Your Love Gets Me High" but "Get Some" is VERY obvious.) No surprise whiskey is the drink of choice in this song. Many moons ago I tried to bring wine to a Taking after party. Needless to say I ended up being the only one drinking it that night. At any rate, this would not be a rock based album if it didn't have a one night stand tune in the track list somewhere. I usually don't go for songs like this, but I cannot deny that "Get Some" is catchy as hell, very well written, and entertaining enough to make the cheeks blush a bit.
A third surface message is found in "Screaming". (I will admit the following interpretation is likely off-base, but it was still fun to make up.) What is this feeling and why do I suddenly feel the urge to SING, I mean SCREAM after listening to the final track? No shame in screaming. Besides, the only person that can hear it is you. That said, let her rip! Feel better yet? If not, repeat. Still not feeling better? Try screaming while beating a punching bag to a pulp. Better yet, play "Screaming" while beating the punching bag and then see if you feel better. Another trick is to crank "Screaming" to such an obnoxiously high level in your car stereo that you can't even hear yourself scream, let alone think. A nice consistent ring will be in your ears afterwards. See, music IS therapy!
Overall, I would say The Taking has definitely found their sound in this album and have dramatically improved their lyric writing. The band seemed to hone in on both a bit more with the singles they released even before the album dropped. Within that lot, there was a single entitled "Anywhere", another song completely produced by The Taking. Hopefully most of you will remember this tune being blared at several San Antonio Spurs games as well as in Spurs highlights videos during round one of the 2014 NBA playoffs. You can view one of the highlights videos here (https://www.youtube.com/watch?v=fsOEzLRa_Z0). With lyrics that spread a message of never giving up on yourself and continuing to fight to accomplish your goals, "Anywhere" seems to be the perfect fit for any type of "you can do it"/inspirational/"Eye of the Tiger" ish video. While it is fantastic that this single received so much attention during its Spurs run, it should have gotten even more by being an eleventh track on the self-titled album. Hopefully it, "I won't remember a thing", and "your love gets me high" will be included on the next one.
Keep a close eye on The Taking boys. If they continue to challenge themselves musically and grow the fan base like they've been doing, they will very likely be the next San Antonio band to grace mainstream with their presence.
0